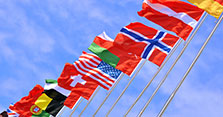 Internationally Accredited
At Martinville University, we implement the best of our programs, policies and systems targeted towards our revolutionary vision of a worldwide online student community. Martinville University is committed towards providing superior online education by using its core strengths like its faculty and management.
Through its Degree, Diploma and Certificate programs in 16 departments of schools, we are giving students and professionals the chance to carry on their education with a full time job. Our online student area provides access to course study material, giving you the facility to study and review your course material at any time.
Innovative Programs
Our degree, diploma and certificate programs have been planned carefully to involve students and professional into a learning experience they have not experienced before. As a consequence of our efforts, we have produced top notch graduates who have been hired by best companies across the globe for their skills and efficiency.
Diverse Student Body
Students who have registered themselves at Martinville get the chance to live their life at their own pace and carry on their education in that manner as well. Through our online systems, they work together with globally acclaimed faculty, get the right to use content from the University's libraries and be part of a University that accommodates thousands of students from different professional backgrounds.
Easy Learning
Our students can continue their education at the comfort of their home or office, at any time they want. They get the opportunity to get in touch with our representatives online 24/7.
Experienced Faculty
Interact with the experienced faculty that can help out students with their industry experience. Martinville University's permanent faculty members are the backbone of our university because they are fully dedicated towards the Martinville mission of providing dedicated services to students and professionals.
Freedom
Have the freedom to choose from our degree, diploma or certificate programs. Not face any ethnic, religious or geographical boundaries; Martinville University promotes peace and harmony amongst all. Have access to the career centre which looks after their job placement and future growth